Singing Lessons: Nottingham, Midlands & Worldwide via Skype
My name is Mark, and I am the Midlands' leading Voice Coach. I provide singing lessons in Nottingham to singers from across the Midlands, and to clients worldwide via online singing lessons.
Singers who come and work with me range from total beginners to gigging and recording professionals, but they all have one thing in common – they are serious about their voices. They all trust me and know me as the "go-to guy" for quickly fixing issues in their voices faster than anyone else.
Whatever your style, whatever your goals, let me show you how we can develop your voice faster and more effectively than you ever thought possible.
Let me show you what we can do for you and your voice.
"…After just one singing lesson with Mark, my problems with breathing were solved by doing simple exercises which strengthened the tone of my voice…"
Mandy J, choir singer
Don't just take our word for it! You can read testimonials from all our clients telling you exactly the same thing.
HOW DO LESSONS WORK?
Whether you feel like a beginner, a pro looking to up your game, or you feel you're somewhere in between, we've got you covered.
My studio is constantly full of all kinds of different singing students all looking to develop their voices. All our clients have radically different voices, styles and goals. They range from choir members and professional performers, to hobbyists and band members.
We work with lead performers in major touring stage-show productions, and amateur-dramatics singers who sing in their spare time. We've also got acoustic singer-songwriters who gig multiple times a week, to the front-men and front-women of bands that gig but once a year.
You name the kind of singer you are, we can tell you of the people Mark has taught who fall into that exact same category. The vocal technique we use in lessons gives us the tools to help achieve your goals together.
100% Tailored To Your Voice
Coaching is personally tailored to wherever you are at vocally. Our sessions together are fun, engaging, but ultimately our sessions are designed to be incredibly effective, and to progress you to getting the most out of your voice. With the vocal technique we apply together in lessons, we will help you unlock range, power and control in your voice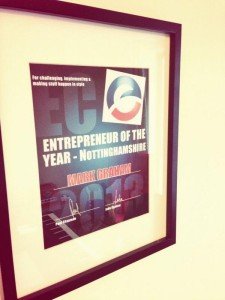 NOTE: It's completely normal to experience a dramatic improvement within your voice within the first few lessons. Of course, mastering these developments takes time and commitment to working on your voice – but the results are absolutely worth the hard work.
Whether you're preparing for a big show, going out on tour, or deeply passionate about your singing voice – maybe to sing better in the shower or your car – you will be astounded at the improvement you can experience.
"Since working with Mark, my voice has massively improved in a very short period of time, and EVERYONE can notice the difference – the improvement has been shocking! Mark makes lessons fun, and makes it clear as to what you're being asked to do. Mark has even been able to help me with my guitar playing! I wouldn't hesitate to recommend Mark to any beginner who is considering singing for fun or professionally."
Jamie L, beginner singer and guitarist
Got some more advanced stuff you'd like to cover?
We've got that covered too. Everyone has things they'd like to be able to fix or do better, and here we have the tools to help you achieve those goals.
Within the very first session we'll conduct a diagnosis on your voice that exposes exactly what you're at, no matter your level. We'll immediately start dealing with the issues of eliminating that frustrating 'break' or flip between chest voice and head voice.
We also work hard on taking the pressure away to relieve fatigue, as well as developing range and flexibility. We can also give you the tools and vocal strength to cope with the demands of a heavy gigging schedule, or to prepare you for an important audition or performance.
Regular voice coaching is as important as physical coaching for any pro athlete preparing for their arena of performance. If you're not taking care of your instrument you can end up seriously hurting yourself and damaging your long term prospects. In our sessions together we can help you deal with these issues and maintain a healthy connected voice for life.



Online Singing Lessons
Not local to Nottingham? Not able to travel? That's no problem either! We are able to offer lessons via the internet using online video calling. We have clients in North America, South America, Europe, Asia, and even further afield.
All you need for this is a microphone and camera set up on your computer, and an internet connection. Online singing lessons work amazingly well and can make getting singing lessons really convenient for even the most hectic timetable.
You just log on, work on your voice in your coaching session, and log off when it's done. And with online lessons there's no travel time, no traffic worries, and you can keep singing in the comfort of your own home/studio/hotel room right up to the lesson and straight after.
"Having wanted to get singing lessons for years I found Mark and decided to take the leap. I was very nervous at first, but Mark made me feel completely at ease and assessed my voice strengths and weaknesses. His knowledge of the functional implications of each sound and how to tailor them to my voice is second to none. I can feel and hear the difference in every lesson and my confidence builds with this. Mark has not only improved my voice but also given me the knowledge to identify my own tendencies and improve on them!"
John J, lead singer and guitarist
WHAT HAPPENS IN LESSONS?

Diagnosis
The first lesson will have an initial consultation and diagnosis. At this stage we identify where you are presently in your musical journey, and how best to take you forward. We then dive into tools tailored to deal with any tendencies you may have. We'll also look at application to song and troubleshoot difficult areas there. We can also look at various types of equipment and the role it plays in your setup.
Structure
Structure of lessons will be approximately 50%-70% on giving you the right tools we mentioned to fix your voice. The remaining 30-50% on specific application of those tools to achieving your goals in song. The lessons are, of course, always flexible to suit your evolving skill and goals… and above all, they are always fun!
Exercises and songs
Building a voice requires balance between exercises and working on songs. Doing lots of the right exercises will absolutely improve co-ordination of your instrument. However we MUST take technique into the realm of song to develop every singer fully. Similarly, singing songs alone is not enough to correct issues and build your voice. We need both exercises AND songs to fully develop your voice.
As we progress…
At the start of you and me working together, we will spend more of our time using specific exercises that aid your vocal development. We will also spend some of this time applying the technique to song. As you progress and as your instrument gains more facility, we will spend more and more time on song application. It's inside the challenging "arena" of each song that you figure out how your instrument works on a deeper level.
Our unique approach is built on enabling us to work on songs ASAP.
WHY CHOOSE TO STUDY WITH MARK?

Ultimately, all our clients are serious about their voices, and look for the results that we deliver session after session.
If you too are after BIG results for your voice, then I'm confident you'll find what you're looking for working with me. But if you're more concerned with price than quality, then I'm probably not the coach for you.
The Bottom Line
Quite frankly, we'll get more out of your voice in just one or two lessons than you'll get anywhere else.
You only have to read the testimonials of our clients to see this. You'll hear how the issues they were encountering for years were addressed right there and then. Most of our clients experience the beginning of that change even in their first few lessons. This sets them free to develop their voice and not continue fighting it.
We've had students study for years (sometimes decades) with other coaches, only to find in their very first lesson that their voices were capable of so much more. It's at this stage that they realise they were settling for so much less. When you know how to build a voice, they really can be unlocked in front of you.
We're pleased to say that the success experienced by our students over the years of coaching has led to a reputation as one of the Midlands' leading voice coaches and singing teachers.

The Breakdown
"Mark immediately diagnosed what I was doing with my voice that was causing the fatigue and giving me an inability to use my voice to it's full extent and potential.
The relief I felt when he told me, provided me with exercises that would have me singing correctly and the feeling of singing with ease was like nothing I had ever felt before! From that moment I knew I could conquer it."
            Lorna S, gigging pro
In truth, you should be experiencing that BIG difference within your very first lesson, otherwise we're not doing our job right!
Let us break it down for you to show you what you get in lessons with Mark that you won't get with anyone else:
The First Lesson
– A personalised vocal diagnosis in the first 5 minutes of your first lesson, so you know exactly where your voice is at and why on a musical and functional level.
– A clear, scientific explanation as to why your voice operates the way it does, with as much or as little detail as you require.
– A tailored vocal workout that directly deals with whatever is going on in your voice.
– Tactically designed exercises that give you maximum benefit for minimum effort for your voice type.
Future Singing Lessons
– New tailored workouts every lesson based on how your voice advances from previous singing lessons and workouts.
– A constantly growing vocal development plan that is specific to your goals are. This will guide you in your vocal development and keep you on track towards your goals.
– Time to work on and troubleshoot tricky songs that you want to be able to sing.
– Open access to Mark's own vocal tips and tricks. These will help guide you through the troublesome areas of your voice, and to further your own artistic voice.
In case you're still needing further reassurance
I trained under and achieved certification through both SLS (Speech Level Singing) and IVA (Institute for Vocal Advancement). I have studied and continue to study every year with present-day voice experts from all over the globe.
We've also been featured by other local organisations. For example, BBC Nottingham featured me to advise on vocal technique and style. Similarly, Creative Nottingham conducted a feature on our studio. More Nationally we've also been featured by several prominent business organisations, such as the Entrepeneur's Circle, and others:
As Previously Featured By
SCHEDULE
Our Schedule for Singing Lessons: Nottingham
Mark's schedule below reflects our current schedule of available session times:
| | |
| --- | --- |
| Monday | 10am to 6pm |
| Tuesday | 10am to 6pm |
| Wednesday | 10am to 2pm |
| Friday | 10am to 2pm |
PRICES
Our Pricelist for Singing Lessons: Nottingham
"Singing lessons with Mark are definitely worth it!
I'm always excited to return to my next lesson with Mark. Both to ask him more questions about my voice, and to work on my voice. Mark has saved me from giving up on my voice and has really given me hope to keep going with it!"
           Rachel B, lead singer
CLICK TO VIEW PRICELIST
INITIAL CONSULTATION
1 hour session
£199

SESSION PACKAGE
4 x 1 hour sessions

£699 £796
Save over 10%

CUSTOM PACKAGE
Our bespoke service designed around you.
From £150 per month
Application only
+ 18 month commitment
PREMIUM
Gain access to times outside normal hours.
£299

ARE YOU READY TO START WORKING TOGETHER?

If we've just described you and what you're after, and you're genuinely serious about working on your voice and seeing some big improvements lesson after lesson, then we would love to work with you.
Let me show you what we can do for you and your voice.
OTHER SERVICES

We also offer a variety of tailored services and lesson packages beyond just singing lessons Nottingham, which can be customised to suit the needs of a given client or organisation. For example:
– Workshops – customised group vocal tuition suitable for bands, choirs, worship teams, schools, etc.
– Vocal consulting – often needed by bands/artists about to go into the studio. This is often to polish up particular songs during pre-production. This can also be due to singers struggling with a particular aspect of their voice before a live event.
– Vocal health seminars – For those who work with their voice every day, fatigue, vocal wear and tear can easily creep in. This can leave you or your team struggling to cope with the vocal load of their daily grind. Simple exercises and better understanding of your voice can improve and even eliminate this. This leaves you better able to keep using your voice day-in and day-out.
If you have a specific query or need in mind, please contact us. Please explain your exact needs as best you can. We will then be in touch to discuss your needs further and put together a bespoke solution for you.
Singing Lessons Nottingham: Any questions?
If you have any questions about singing lessons, please visit our FAQ section. We have taken great care to answer the most frequently asked questions there. If you have any questions not already answered there about singing lessons Nottingham with Mark, contact us.